Art auctions are more beneficial than traditional art sales

Art auctions have existed since the 17th century. In June 1693 John Evelyn refers to Lord Melfort's "great auction of pictures" in the Banqueting House, Whitehall. Later they became a huge industry with an income of billions of dollars. Auctions made the world of art global and more approachable for people. What is an art auction? An art auction is a sale of art managed by an auctioneer and usually held by auction houses. Art auctions are generally scheduled beforehand, months in advance, and have a definite line-up of works of art that are presented to auction participants earlier. Expert art consultants set appropriate prices for items.
Benefits of art auctions
As you become more and more knowledgeable in the art sphere, you have definitely heard a lot about art auctions. But why an auction? How is it better than just selling works of art? Let us tell you why.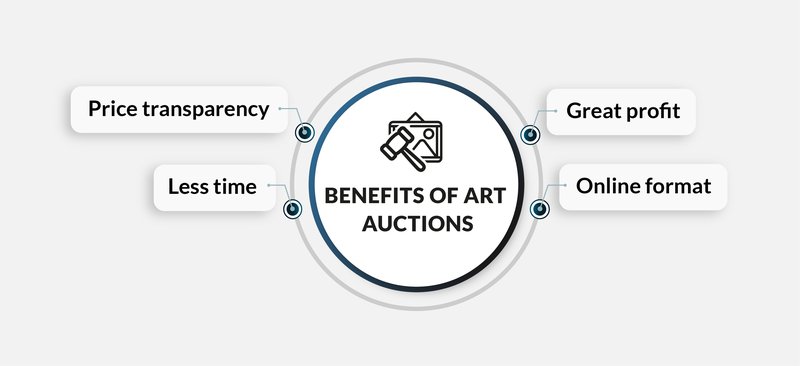 Price transparency
Your price estimates are visible to all auction participants and observers. There are no questions about the honesty of your auction. Questions concerning price accuracy may arise during traditional art sales.
Less time
Art auctions take way less time than the traditional purchasing way. You don't need to wait long for customers to decide whether they are going to buy a painting or not.
Great profit
Because of the competitive bidding process, people tend to place higher bids and eventually pay a lot more than the starting price. As a result, you earn extra money without much of an effort. Isn't that great?
Online format
The technology keeps developing and so do auctions. Online auctions give their organizers an opportunity to attract more people for participation as an online format is quite convenient for those who can't arrive at the auction venue due to distance/time/personal problems. Online art auction may last up to a few days as well without any problems which gives people more time to place their bids. Art auctions online don't require extra spendings on a venue, catering, sitting arrangements, etc. Selling your art at online auctions is a totally beneficial business as you can see. Absolutely better than just selling paintings in the shop.
How to become an art auctioneer
Knowing how to auction art properly is a great skill if you want to start organizing your own online art auctions. To work in the art sphere you need to be a specialist in fine art and a sharp-witted businessman. Passion in art is also expected. Let's take a look at the steps you'll need to take for becoming a successful art auctioneer:
College degree in Art History - how can you become a strong art auctioneer without a good education? A college degree is a great way to start. A doctorate degree will make you a higher-level art expert;
Auction School - Auction schools teach people how to work with different types of auctions, including art auctions. Students will improve their public speaking skills, will get to know how to do a bid calling correctly, and gain a lot of skills necessary for this profession;
Art auctions - "Tell me and I forget, teach me and I may remember, involve me and I learn". Therefore, attending art auctions will help you gain experience as you observe the process with your own eyes instead of just reading about it all;
Hard work - you will achieve success through hard work. In an auction house, you need to collaborate with people a lot and meet constant deadlines;
Apprentice - apart from a major in art it's great to master a business side as you are apprenticing at an auction house;
Art events - being active in the art sphere is as important as studying art. Attend as many art events (art galleries, lectures, exhibitions, etc.) as you can to be constantly aware of trends and to have a chance to network with other artists and specialists;
Specializing - to become a successful expert in art you need to have a specialization. And to get a specialization you can review catalogs, make conversations with other specialists, ask questions, choose an area of interest, and deepen your expertise;
License - some countries require a license and it differs depending on the country;
Research - doing research from art galleries, exhibitions, museums, and auction houses will make you an experienced specialist;
Reputation - last but not least, keep a flawless reputation by getting your work done accurately and with passion. Your reputation is key to a successful art career.
As you prepare to work in the art sphere and with auctions specifically, you need to get some knowledge about good art auction software.
Art auction software and you
As you plan to conduct online art auctions seriously, the question about a good auction software to sell art arises. Luckily for you, we offer great software for that.
There are 2 types of auctions that are highly suitable for the sale of art:
Both of these auctions allow participants to raise their prices gradually, which allows you to gain more profit for the works of art that you are selling. Read more about both of these auctions and the difference between them by clicking on them. Our online auction software provides you with full transparency and it is completely customizable! Whatever you think of, we will make it happen. Try out our free demo of the auction and contact us if you have any questions. We would love to talk with you!