During recent years charity fundraising gained more popularity worldwide than before. The overall donation rate grew by 4.1% over 2019. General income from fundraising online grew by 23% over 2019, up from 15%. And it keeps growing. Online fundraising slowly starts to replace traditional fundraising as the technology keeps developing. According to statistics, online resources are seen as 20% more beneficial than direct mail if to talk about gathering donors. And from that, the need for proper software appears. Auctions can be a good godsend for charity organizations. In this article, we will talk about how beneficial online auctions are for charity fundraising.
Online Charity fundraising auctions and their benefits
For charity fundraising, ascending auctions are generally used. There are two types of auctions that will totally be in handy for successful fundraising: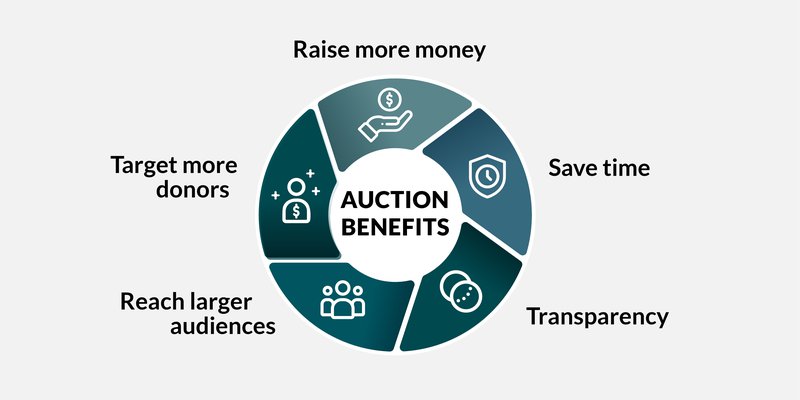 Both auctions aim at increasing prices through rounds. This allows fundraisers to fundraise as much money for charity as possible without any limits. Online auctions also save a lot of time for both organizers and participants. Besides, online auctions provide participants with more transparency than traditional auctions. Also, because of the Internet, online fundraisers can reach larger audiences and target more donors worldwide without any extra efforts and extra time spent on search. Online fundraising auctions can be suitable for every taste. For example, you can raise money for organizing signed memorabilia, pizza package, gift baskets, custom artworks, car wash, bake sale, race night, and many more. Nowadays sports charity fundraising events are becoming more and more popular. Just imagine, you organize a sports event, i.e. marathon, where people from all over the world will join the running. And together you will raise a lot of money for charity. A Sportbank Paris Run can be a good example of charity fundraising marathons.
How to start an online fundraising auction?
Switching to online auctions for fundraising is quite an important step and we would like to congratulate you if you decided to do so. Trust us, it is a good and beneficial choice. Of course, it may be hard to find a good fundraising auction software out there and organize an auction on your own. But don't worry, Quintagroup will gladly help you. Not only will we provide you with valuable fully transparent fundraising auction software but also we will help you with launching and running your online auctions effortlessly! Contact us if you want to know more about our fundraising auction software, try out the demo for free, and make your online fundraisers stronger than ever.