Have you ever wondered whether buying and selling a car in an auction is a good deal? Have you ever wanted to spend as little money as possible on a good car and at the same time to get as much money as you can for selling your vehicle? We will help you to form a strong opinion about Car Auctions by writing about reasons for putting a car on an auction, how quick and profitable it is to sell cars at Online Car Auctions, the pros and cons of Online Car Auctions, how it works, and more.
Pros and cons of a Car Auction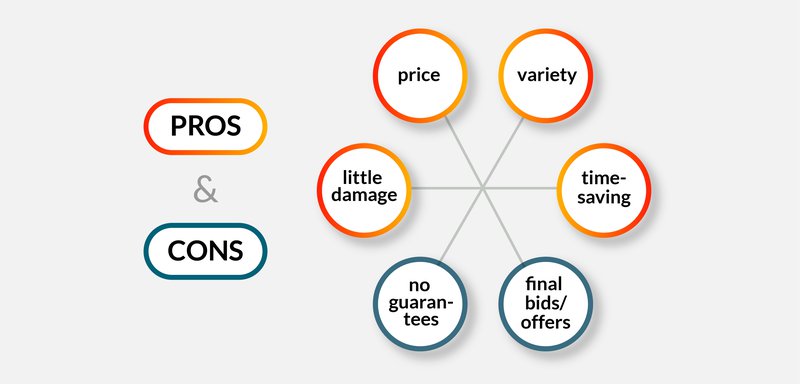 As now all auctions can be conducted online, so can a Car Auction. The online format of Car Auctions brings a lot of pros to the bidding process:
Price - it depends on whether you are a buyer or a seller and what vehicle you want to sell or buy. If you are a buyer and would like to purchase a car at a low price, Online Car Auctions are just for you! Here you will be able to buy your favorite car at a cheaper price than from the dealership. If you are a seller and you have a rare vintage car, Online Car Auctions will also be good for you as you can sell your car at the price that it is truly worth. In the article you will find out about the way Car Auctions from Atreus can help both buyers and sellers gain profit;
Variety - at the auction you will find cars for all tastes - different brands, colors and more;
Little damage - most of the cars sold at auctions display a little damage like small scratches and dents. Salvage cars are an exception as they have more damage.
Time-saving - the time is money, and buying vehicles at Online Car Auctions saves a lot of your time and efforts
However, some cons are also present:
No guarantees - there are no guarantees on cars and information about them. But most people provide correct information about their vehicles;
Final bids / offers - that means that if your bid/offer is accepted, you need to buy or get penalties. But we all come to the auction to actually buy, don't we?
Why are cars auctioned?
Firstly, let's take a look at some reasons why would a car be sold at auctions:
The owner of the car wants a new one, so they sell their old car in the Car Auction;
The cars are on dealer's parking lot for a long time, so they want to sell them at a reduced price to get at least some of the money invested;
The owner needs money for their personal needs, so they sell a car to get some money;
Some cars can be damaged for a lot of reasons. So after paying off the owners, insurance companies want to compensate some of the money that they paid by putting these cars on Car Auctions for a reduced price.
Nevertheless, you will get a good deal by buying a car in the auction. Let's see how exactly.
How quick and profitable it is to sell cars at Online Car Auctions?
Traditional Car Auctions have proven themselves to be quite beneficial to both buyers and sellers. Auctions save time for sellers because they just don't need to spend days and months on finding a buyer. Now think about how an online format of a Car Auction will save your time in 2 or 3 times! Besides, the auction creates competition, which means that not only you will have a lot of people willing to buy your car, but also there is a chance that you will sell your car at an even higher price than you expected. And if your car is badly damaged and couldn't find a buyer for a very long time, Online Car Auction will solve this problem too due to the descending auctions. So, are Car Auctions a good deal for you? Of course, yes.
How do Online Car Auctions work?
The auctions for selling cars can be divided into ascending and descending. In the ascending auction, the price increases during the bidding process. This type of auction is most suitable for selling exclusive vintage cars, some new limited collections, and personally used cars. In the descending auction, the price decreases throughout the auction until it reaches its minimum value. This type of auction allows people to buy and sell used or damaged vehicles at lower prices. And as we all know people are trying to save their money everywhere where it's possible. Most people use ascending auctions for selling and buying cars. Even so, people still save a lot of money on buying a new car!
For ascending Car Auctions Atreus presents 2 types:
For descending Car Auctions Atreus offers:
You can read about the benefits of these auctions and differences between them in our blog by clicking on links above.
How did Online Car Auctions work so far?
Let's take a look at statistics from 2020. In one of the Online Car Auction websites, we can take a look at how a salvaged car was sold at an ascending auction. Lot A 2018 Toyota Highlander LE was sold for $13,900 when the starting price was $8300. To read more about Online Car Auctions in Ukraine go to the DTO Portal - a part of the Prozorro.Sale project. Let's take a look at a chart, which displays the difference between the initial price for cars and for how much these vehicles were sold. The information was taken from the eBay UK website. The lots below are:
Car 1 - 2004 Land Rover Discovery 3
Car 2 - AUDI A6 4.2 V8
Car 3 - BMW X5
Car 4 - Fiat Barchetta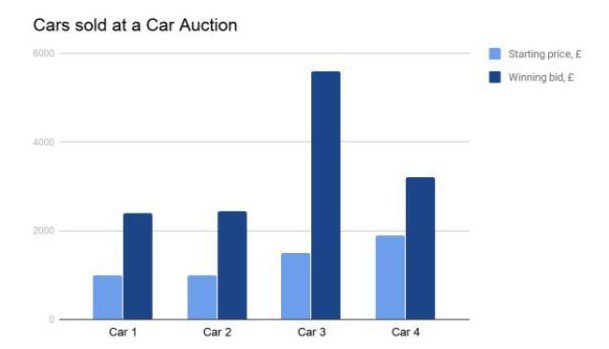 So, as we can see from the chart above, selling used cars at auctions is more profitable than selling them on your own.
Atreus for Online Car Auctions
There are a lot of Online Car Auction websites nowadays, so why should you try auctions from Atreus? Atreus Saas Auction Platform is different from other auction platforms due to its full transparency of the process. Besides, it will help you to save time and money on organizing a Car Auction as it will be conducted online. One of the best features of Atreus is that you can customize existing auctions or even create your own which will reach all your requirements. To try it out request a demo by clicking on the link. Last but not least, keep in mind that an auction is not a game - it's a business, and Atreus can help you get as much profit from it as possible.